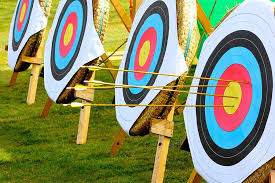 Details of our next beginners course as follows :
Ever wanted to try archery?
Ever wanted to feel the spark of joy when being able to hit a bullseye from 20 paces?
Ever wanted to learn a new skill while benefiting from mild exercise and working on your tan*?
If yes, you're in luck as we are hosting a beginners course. We are a fun, social, family-friendly, thriving, open to all, competitive (but not pushy) and, most importantly, a safe club. We provide a safe environment to practice this rewarding and challenging sport at our dedicated Archery range at Old Grammarians sports ground. We have all the equipment required for you to take part just need to visit us with shoes that cover your toes and have the ability to tie-up any loose hair and our ArcheryGB qualified coaches will work their magic transforming you into potential future Olympic stars**.
Our range is universally accessible and wheel-chair friendly with good access from the car-park. We can cater for all abilities, genders, disabilities and ages (children under 8 may need to be assessed for suitability).
The next 4 week beginners course runs between 11:00am and 1:00pm on the following dates:
Saturday 18th April 2020
Saturday 25th April 2020
Saturday 2nd May 2020
Saturday 9th May 2020
If interested please email secretary@woac.co.uk for more details.
Limited spaces available.
Archery: a sport for all ages and abilities.
*Tan-weather not guaranteed!
**Olympic star transformation not guaranteed!